Pepe Escobar: Al-Qaeda asset leading rebels in Tripoli

international | anti-war / imperialism | other press

Saturday August 27, 2011 19:00

by T
Interviewed on Russia Today
See this breaking news interview with War correspondent Pepe Escobar on Russia Today television.

The hostility persists in Tripoli and the Libyan rebels continue the search for Gaddafi, but who is leading the rebels? Who are the beneficiaries of the fall of Gaddafi? What will the blowback be for those in Libya and across the globe? Pepe Escobar, a correspondent for Asia Times, gives us some answers to these questions.
In this interview with Pepe Escobar is discussing the situation in Tripoil and how the current actions by NATO is a complete violation of the UN resolution.
He then reveals how the leading commander of the rebels in Tripoli is an Al Qaeda asset. Things have got so blatant at this point that even the mainstream press are now beginning to report this and he says the Obama administration have already started the process to try and publically try and distance themselves from this guy even though the US military is providing drones, missiles, battlefield systems, air support, and intelligence to these same people alongside NATO.
There has been a tendency on the entire Left when they here the word Al Qaeda to run away, but it has become undeniable that the US and NATO forces have deep links with this murky complex of various terrorists groups and they fight them in one place when it suits and ally with them in another when it suits. People should remember that during the war in Bosnia, when the West sided with the muslim side, they openly had former Mujahideen fighting for them. Many of these were the early people of the Al Qaeda brand.
Meanhile in Libya, the situation has descended into chaos and the rebels are taking out revenge on people.
NATO have a lot of blood on their hands here.
Source at I find it very ironic that David Cameron took about the people rioting in London and yet British Special Forces (SAS) are in Libya along with their airforce and they are blowing up infrastructure and launching bombs and missiles and you can be sure civilians are getting killed. Collateral murder. There are massive shortages of fuel and medicines in Tripoli as we speak and the population is terrorized.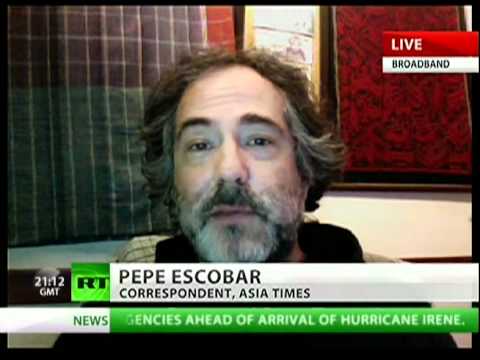 Caption: Interview with Pepe Escobar on RT.com 27th Aug