40th Anniversary of the Dublin bombings of Dec 72 and Jan 73

national | crime and justice | feature

Tuesday November 27, 2012 12:02

by Joe Murphy - n/a
Justice for the Forgotten and Dublin Bus will be holding a commemoration for the victims of the Dublin bombings of December 1972 and January 1973.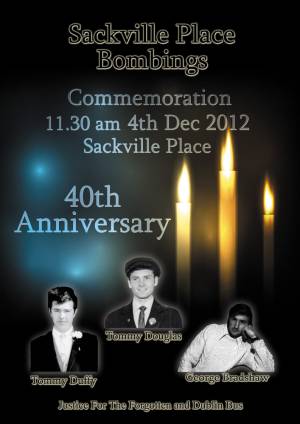 A wreath-laying ceremony to honour and remember the three busmen who were killed will take place in Sackville Place on the 4th of December at 11.30 am at the site of the pavement memorial: 'A Fallen Bouquet'.
All welcome

Forty years have passed since that dark winter evening of Friday, 1st December 1972, when at 7.58 pm, the first ever car bomb exploded in the Republic of Ireland. It occurred beside the famous Dublin landmark, Liberty Hall, where the ITWGU had its headquarters. There were no fatalities but many people were injured. Several minutes later, a second explosion occurred at Sackville Place, off O'Connell Street, killing bus driver George Bradshaw, aged 29 and bus conductor Tommy Duffy, aged 23. Both of them were married men. George and his wife Kathleen had two young children. Tommy and his wife had a daughter and Monica was pregnant with their second child.

Three minutes before the first bomb exploded, an anonymous telephone call was made to the 'Belfast Newsletter', giving a warning that bombs planted at Liberty Hall and behind Clery's would explode at 8.05 pm. The person who received the warning told Gardaí that the caller had spoken with a 'Belfast English-type accent'. The warnings came too late as was almost certainly the intention. The result was devastating, two men dead and 127 people injured. Damage to property was extensive.

Related Links: Justice For the Forgotten |
Answers still outstanding about the Dublin and Monaghan bombings |
Wikipedia page on the bombings |
An Phoblacht article on the unveiling of the memorial to the three CIE workers |

Although it was a Friday evening the Dáil was in session at Leinster House. A bill to amend the Offences against the State Act was being debated and a defeat for the Fianna Fáil Government seemed inevitable as the Opposition parties and some members of the Government were opposing it on civil liberties' grounds. The amendment would admit the opinion of a senior Garda officer as evidence of an accused person's membership of the IRA.

However, the bomb explosions changed the course of Irish history.

When the vote was taken after an adjournment Fine Gael abstained allowing the amendment to be passed.

Early investigations centred around four cars. The two in which the bombs were planted were hired in Belfast on Thursday morning, 30th November and were due to be returned on Saturday, 2nd December. One car was hired from Moley's Car Hire Company, Victoria Square by a man who produced an English driving licence in the name of Joseph Fleming of Derby, England. He was described by Mr. Phil Moley as 'a respectable, well-dressed man of about 40. He was six feet tall and spoke with an English accent.' This car exploded in Sackville Place.

A second car was hired from Avis at Aldergrove Airport. Avis were satisfied that the hirer spoke with an English accent. This car exploded at Liberty Hall. (The choice of the trade union building may have been due to its old association with Irish Republicanism but more likely because Provisional Sinn Féin had held its Árd Fheis there in late October. That event had received considerable media coverage because of the rousing speech of IRA Chief of Staff, Seán MacStiofáin, which annoyed the Government and political establishment).

A third car was hired from Hertz at Aldergrove Airport and was due to be returned on the same date as the others. However, the car was not returned and was never recovered.

A fourth car, the property of a Mr. Joseph Fleming of Derby, had been stolen in Ballymoney, Co. Antrim on 11th August, near four months prior to the bombings. The car had conveniently contained Mr. Fleming's driving licence, insurance certificate and tax book – all in his wife's handbag in the car's boot. This licence was used to hire the three other cars and it, too, was never recovered.

Both cars in which the bombs were planted were already in Dublin on the evening of 30th November, according to a number of eyewitnesses.

The Gardaí were very pro-active in the early days of the investigation, travelling to Belfast and London to retrieve hire agreement documents and interviewing witnesses. Although the RUC were relatively helpful the Garda report comments that RUC officers would not permit them to interview some persons 'for reasons best known to themselves.' The Irish Times received an anonymous letter on 7th December bearing an English postmark, which claimed that 'five members of the British Armed Forces were involved and they left Dublin… by plane to Heathrow.'

Over the following months a number of stories appeared in the media concerning possible British involvement in the bombings but none of the claims could be verified.

Little more than a fortnight after the bombings, two significant arrests were made in Dublin hotels on 18th and 19th December. British agent John Wyman was arrested at the West County Hotel, Chapelizod on 18th and was taken to the Bridewell for questioning. The following day, Gardaí apprehended Detective Sergeant Patrick Crinnion, attached to Crime and Security Branch (C3) of the Garda Síochána, in the Burlington Hotel where he was attempting to rendezvous with his handler. Crinnion was found to be in possession of secret, sensitive documents which he was about to pass on to Wyman.

When their case came to trial it was heard 'in camera' and the judge's hands were tied because the documents in question were not made available to the court.

During the trial, Wyman's notebook was produced. Entries mentioned were: 'RLs'; 'car bombs'; 'arrest policy'. When asked to explain these entries he replied that 'RLs' were Rocket Launchers, which he said the IRA were using and 'car bombs' referred to the explosions in Dublin of which he said: 'We are as interested in finding out who did this as you are'. He would not comment on what 'arrest policy' meant.

Both Crinnion and Wyman were convicted under the Official Secrets Act and sentenced to three months imprisonment on 27th February 1973. However, as they had served more than two months in Mountjoy prison, they were immediately released and flown to England.

On a date between the Dublin bombings of 1st December and his arrest on 18th, Crinnion confided to a fellow Garda officer that 'the Brits' had been involved in causing the explosions. He said he had received this information from his brother-in-law in the British Army. This man was James Lattimore, of the Royal Irish Rangers who was said to be based in Waring Street, Belfast in 1972. In his death notice of 4th April 2007 he is described as Major James Benedict Lattimore MBE, Enniskillen Fusiliers (retired). He was awarded the MBE in June 1971.

When news of the Littlejohns' role as agents provocateurs broke in early August 1973, the former Taoiseach, Mr. Jack Lynch, in an interview with Geoffrey Archer on ITN, said he was suspicious the Dublin bombings of 1st December 1972 had been caused by British agents. This allegation was sufficient to provoke an unprecedented official denial by the British Government of their involvement in the bombings two days later.

A copycat car bomb was planted in Sackville Place on 20th January 1973, killing another young bus conductor, 21-year-old Tommy Douglas, a native of Stirling, Scotland who was engaged to be married. The investigation into this bombing was minimal and very little information is known about it.

Nobody has ever been arrested, let alone convicted, of these atrocities.

The claims of British collusion in these and later bombings persist. Justice for the Forgotten is still pressing the British authorities to make documents available on all the cross-Border bombings of the 1970s, which they failed to disclose to Judge Henry Barron to assist in his Independent Commission of Inquiry.
George Bradshaw
George, a native of Fethard, Co. Tipperary, was a young man of 29 when he was so brutally murdered in a Dublin street 40 years ago.
He had married Kathleen, a nurse from Belfast and they had two small children, Lynn and Rory.
George was employed as a bus driver with CIE and the family had been living in Dublin for less than two years when tragedy struck on 1st December 1972.
George had plans for the future - he was ambitious and was attending night-classes at the time of his death. His favourite hobby was dancing.
Tommy Duffy
Tommy, a native of Castlebar, Co. Mayo was just 23 years old when he was killed on 1st December 1972.
He was married to Monica, who was pregnant with their second child, Tom. They already had a small daughter, Caroline.
Monica - "Tom was from Castlebar in County Mayo. We met on the 29A bus when I was about 17. He was working on the bus and I was going to school at night. The bus went from near my home in North Dublin to Abbey Street. There used to be only the two of us on the bus for a long distance. After a couple of nights he asked if I would go and see a picture with him and it started from that."
Tommy worked as a bus conductor and had several hobbies. He loved to play traditional Irish music on the mouth-organ and spent lots of his free time tinkering with cars. He also had a flair for carpentry.
During the summer months, he liked nothing better than to return home to Mayo to help on the farm, especially with saving the hay.
Tommy Douglas
Tommy, a native of Stirling, Scotland was only 21 when his life was so cruelly taken from him on a Dublin street on 20th January 1973.
He, along with his brothers and sister, was raised in a Scottish mining community. He served his apprenticeship as an electrician and, when he qualified, he decided to move to Dublin.
The family had strong leanings towards Ireland and had spent their childhood summers in Achill Island, the native place of their mother. Tommy was very proud of his Irish ancestry and all things Irish. Tommy was very close to his mother, always offering help. He thoroughly enjoyed his holidays in the West of Ireland and their occasional stop-overs and visits in Dublin. Most of the songs he knew were Irish songs.
In a way, therefore, it was no great surprise that he chose Dublin in 1972 to check out whether, as a newly qualified electrician, he could find electrical work or indeed set up such a business in Dublin. He was grateful that the temporary job on the buses gave him the funds to live in the city and check things out. There's no doubt, though, that he enjoyed his role as a busman, his personality well-suited to mixing with colleagues and the public alike.
His fiancée had joined him a very short time before his death.

The 40th anniversary of the Dublin bombings of December 1972 and January 1973 will be marked with a significant commemorative event on Tuesday, 4th December 2012 at 11.30 am.

A wreath-laying ceremony to honour and remember the three busmen who were killed will take place in Sackville Place at the site of the pavement memorial: 'A Fallen Bouquet'.
The Lord Mayor of Dublin, the CEO of Dublin Bus, Justice for the Forgotten and family members will lay wreaths.
The oration will be given by Mr. Jack O'Connor, General President of SIPTU.
The CIE Male Voice Choir and Ms Grace Bradshaw, grand-daughter of the late Tommy Duffy (killed on 1st December 1972) will provide the music.
Nobody has ever been arrested, let alone convicted, of these atrocities.
Everyone is very welcome to attend and show solidarity with the families, some of whom will be travelling from overseas to attend the event.