Report of Corrib Cases at Belmullet District Court, November 13th, 2013

mayo | rights, freedoms and repression | news report

Friday November 15, 2013 13:09

by Rossport Solidarity Reporter
- Booze Garda Evidence Convicts Local Resident -
Judge Denis McLoughlin presided over yesterdays monthly sitting of Belmullet district court. Amongst the defendants were 5 people up on charges because of their opposition to the Shell Corrib gas project. Of the Shell related cases only one was heard, resulting in John Monaghan being convicted and fined E350 and disqualified from driving for one year. Of particular note in this case was that some of the evidence that was used to convict Mr Monaghan, came from Sgt Dermot Butler, who was one of the named Gardaí that a former Shell subcontractor claimed helped to transfer the alcohol that he delivered to Belmullet Garda station on behalf of Shell. Also of particular note was that one IRMS security guard also confirmed that IRMS had a practice of profiling certain members of the local community and other campaigners.


Three of the five defendants had their cases put back to next month's sitting on December 11th because the state is still preparing the cases.

Shell to Sea spokesperson Maura Harrington was not present in court but had sent in a letter to the judge. After seeing the letter, the judge put Ms Harrington's cases in for hearing at next month's sitting.

For a portion of the morning most of the court was vacated for hearing family law cases.

After midday the court heard the first of three cases brought against John Monaghan.

The essence of the state's case was that Mr Monaghan allegedly parked his van at the entrance to the Shell tunnelling work site at Aughoose on 1st December 2011 in a dangerous manner and obstructed the entrance for a number of hours.

Mr Monaghan - defending himself - argued that he had private business at the site, and had parked there in a safe manner.

Inspector McKenna - who was prosecuting on behalf of the state - was going to rely on Garda and IRMS video evidence and called the Garda and IRMS security guards who either took the footage and or handled it subsequently forward to prove the evidence before it was admitted. On cross examination Mr Monaghan asked each of the Garda witnesses if he or she:"had ever knowingly received gifts or gratuities from Shell or Statoil" and secondly whether any of them "had been involved on the distribution of any such gifts". Each Garda witness answered no to each count. When the relevance of these questions was raised, Mr Monaghan referred of course to the claims by OSSL - a former contractor to the Corrib project - that alleges it made covert deliveries of alcohol worth tens of thousands of Euro to Gardaí who were policing the protests against the Corrib project. On cross examining the IRMS camera witnesses Mr Monaghan established that each held a static security guard licence, not a surveillance licence.
Once this was done the state called in turn each of five IRMS security guards who had been stationed outside the gate of the Shell Aughoose site to give evidence. The first security guard witness, Edgars Prinka, alleged that Mr Monaghan was driving at a normal speed and pulled in towards them into the entrance of the Aughoose site without indicating, in a dangerous manner, and that he blocked vehicles from entering the site.

Profiling of Campaigners
On cross examination Mr Monaghan's questioning put holes in his evidence but also revealed suspected but still shocking IRMS practices: During his evidence Edgars Prinka, stated that he knew Mr Monaghan as he pulled into the Aughoose. Mr Monaghan questioned how Mr Prinka knew him, seeing as they had never met. Mr Prinka stated that he had been shown photos of Mr Monaghan. When asked if he had been shown a profile of Mr Monaghan, Mr Prinka responded "Something like that". Mr Monaghan then questioned Mr Prinka about who had made the profiles and how many other campaigners had Shell or IRMS profiled but Mr Prinka said that he didn't know.

Subsequent IRMS witnesses gave pretty much the same account of the incident.

Each security guard witness was asked in cross examination how they knew Mr Monaghan. Radoslaw Rabenda - an IRMS security guard since 2008, when Shell first invaded Glengad, had the following to say: "You make trouble... all of you are similar... many of you come in on site fighting with us..."

Retired Garda Patrick O Hora who was stationed at Ballina at the time, then gave evidence. As with earlier Garda witnesses, Mr Monaghan asked if he had ever received or distributed gifts from Shell or Statoil. Mr O Hora answered no emphatically. During cross examination Mr O'Hora conceded that Mr Monaghan did leave traffic through and was not obstructing.
Garda Culkin also gave evidence on behalf of the state.

Drink-Link
The next Garda witness was Sgt Dermot Butler. In some ways the case had been building to this point rather than the actual outcome of the case. Mr Monaghan again asked if he: "had ever knowingly received gifts or gratuities from Shell or Statoil" and secondly whether he "had been involved on the distribution of any such gifts". Sgt Butler replied "No" to both these questions. Mr Monaghan then asked Sgt Butler to comment on the suspicion that is out there that he had been personally involved in receiving alcohol from Shell. Sgt Butler became highly agitated at these questions and answered that he would not be answering any such questions. Again the relevance of these questions were raised by Inspector McKenna and by the judge. Mr Monaghan said that he was giving each Garda "an opportunity to clear the air" before giving evidence, as the Shell/Garda drink corruption allegations had been in the public arena for over a year, and, were especially relevant as Mr Butler is one of the named Gardaí in the allegations, which were subject to investigations. Mr Monaghan then quoted the often used phrase that is bandied about in court "Not only must justice be done, but justice must be seen to be done". Mr Monaghan stated that the allegations that Gardaí of the district had received drink and bribes from Shell were widely believed in the area. He also stated that what he was saying was that campaigners were getting unwarranted and unfair attention from the Gardaí because of their opposition to Shell. Mr Monaghan then attempted to read out an excerpt for the current edition of The Village magazine (in which an invoice with Sgt Butler's name appears), but was stopped by the judge.
In the end the judge said that Sgt. Butler did not have to answer the questions, because the allegations were in a way sub-judicae because of investigations being carried out.

Sgt Butler went on to give evidence on behalf of the state, but was obviously badly rattled by the preceding discussion. On cross examination, Mr Monaghan essentially established that Mr Butler formed his opinion that Mr Monaghan was obstructing intentionally, without having spoken to Mr Monaghan, but on the presumption based on the location of the incident and Mr Monaghan's vocal opposition to the Corrib gas project.
Garda and IRMS video evidence was subsequently shown. Mr Monaghan asked to show the IRMS footage from the beginning where it is alleged that he swung in dangerously towards IRMS security guards, and the footage from where he allowed an articulated lorry and other vehicles enter the site. It emerged that these periods of recording had not been submitted in evidence.
The Garda video evidence curator Garda Denis Egan was questioned on these points by Mr Monaghan, and as to why he did not seek these missing parts of footage. Garda Egan responded uniformly that he had reproduced all that was submitted.
Mr Monaghan asked Garda Egan if he would accept that these parts of video were omitted - he replied "yes judge".

Mr Monaghan called one defence witness: Terrence Conway. During questioning it was established that Mr Monaghan had not attended a protest at a Shell site since 2007, strengthening his claim that he had visited the Aughoose site on private business rather than to block it.

In summing up Mr Monaghan submitted that there were inconsistencies in the state evidence against him, and that he was asked to move out of the way of a vehicle, which he did. Mr Monaghan maintained that he was there on private business. He said that no attempts were made to gather witnesses or testimony other than that which would suit a prosecution. He said that he was on a watch list of a private security company working for Shell and Statoil. He said that the footage submitted to Garda Egan was deficient and that key points were omitted such as his arrival at the scene and the vehicles passing freely in and out of the site while he was there.
Mr Monaghan said that he was not allowed conduct his business because of opinions held by Gardaí. Mr Monaghan said "I am one of the latest victims of those criminalised because of my vocal opposition to the Corrib gas project" and asked the judge to dismiss the case.

Inspector McKenna summed up the state case.

Verdict
In giving his verdict, judge McLoughlin said he found "Mr Monaghan's versions of events to be incredulous" and was satisfied with the security guard evidence and that Mr Monaghan was guilty of careless driving and obstruction.
In mitigation Mr Monaghan said that yet again he is the victim of "the not so swift but summary justice in this court", and that he expected no favours from the judge.

The judge convicted Mr Monaghan and fined him E100 for the careless driving charge and E250 for the obstruction charge, and called the whole incident " a flagrant breach of road traffic legislation".
He also disqualified Mr Monaghan from driving for one year.

Mr Monaghan is appealing the case.

Due to time constraints this was the last Corrib related case to be heard that day. Mr Monaghan has two more cases to defend and a date will be set tok hear them during on the court date on January 8th 2014.

Background & Analysis
The pursuit of John Monaghan by the state for alleged offences relating to the Corrib project completely bucks the trend over the last few years of the State trying to avoid arresting or prosecuting local opponents of the project, for fear of sparking further resistance. The new crusade against Mr Monaghan started in earnest however after a Garda was caught on camera threatening Mr Monaghan and smashing his car window with a baton last year.
video: http://www.youtube.com/watch?v=qu4JZ4_Nxl4

And here is a previous exchange between Mr Monaghan and Sgt Dermot Butler.
http://www.shelltosea.com/content/mayo-man-alleges-gard...-2006

In such a rural area, a one year disqualification from driving is a severe punishment to impose on someone, whose only crime from the evidence, was that he sought to question Shell.
Despite the outcome, the day in court was much more bearable than many others witnessed by this reporter - it was a heartening to see Mr Monaghan represent himself, take apart the Shell and Garda evidence and use the opportunity to expose the unacceptable practices that have become commonplace in an area that remains under corporate siege.

The next Shell/Corrib court is on in Belmullet district court 11th December 2013 at 10.30am where Maura Harrington is expected to have cases heard.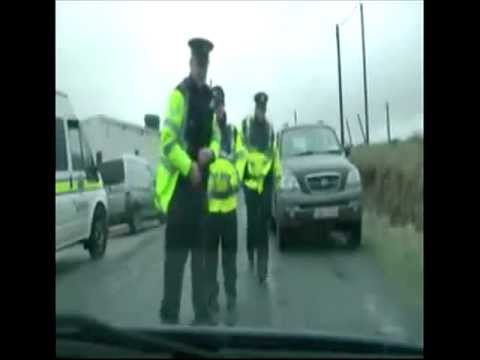 Caption: Garda smashing window
http://www.shelltosea.com/sites/default/files/images/2006_10_13_bellanaboy_walk.mp3

And here is a previous exchange between Mr Monaghan and Sgt Dermot Butler.