Court set alight in Ennis

national | anti-war / imperialism | feature

Saturday June 28, 2014 20:16

by Justin Morahan
Metaphorical fires of justice and truth set court room ablaze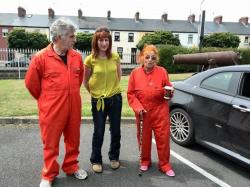 SUMMARY: I arrived in Ennis without pen or notebook to support the action of Margaretta D'Arcy and Niall Farrell who protested on the runway of Shannon against the US military use of the airport. The following is a colour story of happenings on the day relying on memory only. I hope that someone else may provide a fuller report and my apologies for any errors in this report which are entirely my responsibility.
Related Links: Magaretta D'Arcy jailed | Statement from Margaretta D'Arcy on her Release from Mountjoy Prison | FREE Margaretta D'Arcy, US Out Of Shannon / National Demonstration |
From the Archives: DDoS Attack: Website Monitoring Military and CIA Planes through Shannon Shannon, Torture, Troops, and Timebombs | Extraordinary Rendition Through Shannon: Protesters Point Finger At A Government In Denial | Airport Police move swiftly to suppress evidence. Is there a "torture jet" behind that warplane? | Letter from Prison: Shannon airport, civil disobedience and the anti-war movement in Ireland | The Real Nature of the Security around Shannon | Shannon WARport Blockade PICTURES | Three Thousand Protest War in Dublin - Two Protest at Shannon Warport Shannon Blockade Reports | Not Guilty. The Pitstop Ploughshares All Acquitted on All Charges | Another 5 go airside in Ploughshares action at Shannon Airport | Mary Kelly Trial | MASS ANTI-WAR TRESPASS AT SHANNON WARPORT A chronology of arrests etc at Shannon warport
Margaretta D'Arcy set the court on fire in Ennis yesterday in the defence of her action of sitting on the runway at Shannon airport with Niall Farrell to protest against US war planes using the Irish airport as a warport for transporting US troops and weapons to war in Afghanistan, Syria or elsewhere. Her witnesses Clare Daly, Tom Clonan, Mairead Maguire, Ed Horgan and John Lannon lit similar fires in her defence. The courtroom was alight with passion and truth. It was an historic day on which Margaretta and her witnesses filled an Irish courtroom with palpable joy. The day belonged to Margaretta and Niall. Their action in non-violently opposing Irish participation in war was vindicated. The court, the State, the prosecuting Gardaí were the big losers. The legal jargon of the court was drowned in the passionate voices of Margaretta and her witnesses.

There was applause in court. Not afterwards but during the proceedings. The procedure allowed Margaretta who was defending herself to call her witnesses in the latter part of the trial. One after another they took their seats in the witness box, identified themselves and were questioned by her. The list was impressive. Clare Daly, T.D. who had tried on so many occasions without success to get the Irish parliament to inspect flights at Shannon and stop US military from passing through the civilian airport on their way to war. Dr Tom Clonan, retired Captain of the Irish Army, now security correspondent for the Irish Times who visited Guantanamo and gleaned there the usefulness of Shannon for the US military projection of power. Mairead Maguire, Nobel Peace Laureate co-founder of the Peace People in Northern Ireland who had visited countless war zones on peace missions including Iran, Syria and Iraq, and who knows the situation on the ground there. Dr John Lannon, author, lecturer in Knowledge Management at the University of Limerick, Systems developer, Project manager and Software designer, chief organiser of the Shannon monthly protest. Dr Edward Horgan, retired Army Commandant, researcher and part-time lecturer in the University of the University of Limerick, with experience on behalf of EU, UN, OSCE and Carter Group of election monitoring in Bosnia, Croatia, Nigeria, Indonesia, East Timor, Zimbabwe, Armenia, Ghana, Ukraine, Tunisia and Congo DRC., co-ordinator of Shannonwatch.

All five of these these very different people declared their firm belief to the court that what Margaretta D'Arcy and Niall Farrell had done at Shannon was right and proper. Tom Clonan said it was spot on. He had learned that payments for Shannon airport were included in the US Defence budget. He mentioned how a leading member of Hizbollah had told him how disappointed he was that an airport in Co Clare was being used by US military. His knowledge of the location of Shannon made Dr Clonan fear that the airport could easily be a soft target for a terrorist attack. Clare Daly, John Lannon and Ed Horgan believed the protest of Niall and Margaretta was in line with best international law. Mairead Corrigan agreed but added that it it was in line also with the highest law of all, the law of conscience. The judge did not like her perceived inference that he should be lectured on how his conscience might direct him and he told her so.

Looking around the courtroom, it was energizing to see so many people of conscience there, themselves victims of legal and Garda injustice, - including Maura Harrington with husband Naoise Ó Mongáin, Pat the Chief O'Donnell and his son, other supporters from Shell to Sea and Rossport, people who have endured long hours and days in courtrooms such as this one with scant heed for their health and safety, let alone their human or judicial rights. Tim Hourigan, recently found not guilty for Shannon surveillance activities, was looking on. Support groups Shannonwatch, PANA and CND were there in force. (Carol Fox of CND was Margaretta's McKenzie friend). Long term human rights and peace activist, Colm Roddy, travelled from Dublin. Ann Patterson had driven from Belfast. Tommy Donnellan was there with his camera, as he is always there, wherever right challenges might, wherever the weak confront the strong.

The prosecution wasted a lot of time getting Gardaí to "prove" the fact that everyone knew, namely that Margaretta and Niall were on the runway on the day in question. In the process, something emerged that very few people knew, namely the arresting Garda had handcuffed both Margaretta ad Niall although they were fully cooperative with Gardaí, and Margaretta told the Garda that she had denied her request for water.

It should be recorded that Judge Durcan imposed sentences of two weeks imprisonment on Niall and Margaretta, suspended, with conditions attached including the signing of a bond. He admonished the Garda for having used handcuffs on both defendants but did not let this influence his judgement.

No-one was surprised. The law of the land, as perceived by the judiciary and the Irish State, had superseded both international law and the law of conscience in an Irish courthouse - as it always does in such cases as these.

Two cultures - the cultures of Right and Might - clashed in an Ennis courtroom on an historic day. Might was given the verdict and Right was the winner.