14 New Off-Shore Licenses Issued in the Dying Days of a Government

national | politics / elections | press release

Friday February 26, 2016 13:12

by 1 of Indymedia - Fracking Free Ireland
Yet another example of government serving the interests of corporations and robbing the people of their natural resources
14 new off shore licenses issued in the dying days of a government – sound familiar? ?#?fracking? 2011

As the election squabble sideshow grabs the headlines, ownership of Irish natural resources is being handed over to foreign corporations

The Government has awarded oil and gas licences to companies including oil majors Eni, Exxon and Statoil, allowing them to explore for hydrocarbons off the coast of Ireland.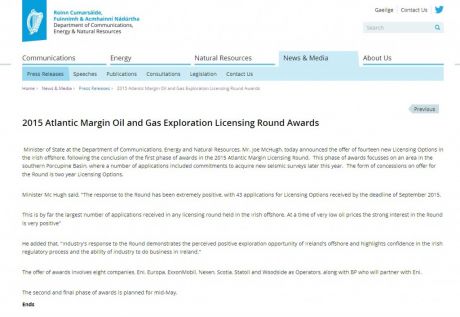 http://www.dcenr.gov.ie/news-and-media/en-ie/Pages/PressRelease/2015-Atlantic-Margin-Oil-and-Gas-Exploration-Licensing-Round-Awards.aspx#
Headline from RTE News - Exxon, Eni and Statoil win Irish offshore licences
http://m.rte.ie/news/business/2016/0212/767424-oil-licences/

Don't suppose anyone's heard much about this….

14 new off shore licenses issued in the dying days of a government – sound familiar?
See https://www.facebook.com/hashtag/fracking?source=feed_t...53171

As the election squabble sideshow grabs the headlines, ownership of Irish natural resources is being handed over to foreign corporations:

'The Government has awarded oil and gas licences to companies including oil majors Eni, Exxon and Statoil, allowing them to explore for hydrocarbons off the coast of Ireland.

Other companies which were successful in securing licences in the first phase include Nexen – a subsidiary of China's National Offshore Oil Company – Europa, Scotia and Woodside.

The second phase of licence awards is planned for mid-May.

————————————————–

"The Government has awarded oil and gas licences to companies including oil majors Eni, Exxon and Statoil, allowing them to explore for hydrocarbons off the coast of Ireland." http://m.rte.ie/news/business/2016/0212/767424-oil-licences/

"This is by far the largest number of applications received in any licensing round held in the Irish offshore," Joe McHugh, the Minister of State for Communications, Energy and natural resources, said in a statement.

Exxon et al getting sorted with TTIP

From the Guardian U.K. "The European Union's trade commissioner told the multinational oil company ExxonMobil that a major free trade deal being negotiated with the US would help remove obstacles to fossil fuel development in Africa and South America, documents obtained by the Guardian reveal.
At a meeting in Brussels in October 2013, Karel de Gucht told the firm that the Transatlantic Trade and Investment Partnership (TTIP) could address its concerns about regulations in developing countries that restrict the company's activities."

http://www.theguardian.com/environment/2016/feb/23/eu-t...tn_tw

https://www.facebook.com/hashtag/stopttip?source=feed_t...53171
https://www.facebook.com/hashtag/climatejustice?source=...53171

2015 Atlantic Margin Oil and Gas Exploration Licensing Round Awards
Minister of State at the Department of Communications, Energy and Natural Resources, Mr. Joe McHugh, today (24 Feb 2016) announced the offer of fourteen new Licensing Options in the Irish offshore, following the conclusion of the first phase of awards in the 2015 Atlantic Margin Licensing Round. This phase of awards focusses on an area in the southern Porcupine Basin, where a number of applications included commitments to acquire new seismic surveys later this year. The form of concessions on offer for the Round is two year Licensing Options.

Minister Mc Hugh (FG) said, "The response to the Round has been extremely positive, with 43 applications for Licensing Options received by the deadline of September 2015.This is by far the largest number of applications received in any licensing round held in the Irish offshore. At a time of very low oil prices the strong interest in the Round is very positive"

He added that, "Industry's response to the Round demonstrates the perceived positive exploration opportunity of Ireland's offshore and highlights confidence in the Irish regulatory process and the ability of industry to do business in Ireland."

The offer of awards involves eight companies, Eni, Europa, ExxonMobil, Nexen, Scotia, Statoil and Woodside as Operators, along with BP who will partner with Eni.

The second and final phase of awards is planned for mid-May.

Ends

Note for editors:

Fourteen Licensing Options are being offered as follows:

Eni with BP as partner – 1
Europa – 1
ExxonMobil with Statoil as partner – 2
Nexen – 4
Scotia – 1
Statoil with ExxonMobil as partner – 4
Woodside – 1