Leaked WADA documents: US Olympic team players were allowed to take banned substances

international | crime and justice | other press

Wednesday September 14, 2016 23:10

by 1 of Indymedia
Different rules for different countries ?
In the months leading up to the Olympics there was a clear political campaign to kick Russia out of the Olympics and this was all part of the broader strategy to make Russia the number one enemy of the West and to restart a new Cold War which the USA has managed to more or less achieve.

However it was surely obvious to anyone who follows sport that there are plenty of others taking drugs and nobody is squeaky clean. Therefore it comes as no surprise to discover the US athletes were taking drugs but what does come as a surprise is the influence of the global US machine on the likes of bodies such as World Anti-Doping Agency (WADA) who seem to have one set of rules for some countries and allows them to take drugs with "doctor's note" and other rules for other countries where no such exemptions or rather turning of a blind eye are allowed.

All of this has come to light as a result of recent hacking of WADA. Naturally it is blamed on the Russians. Whether it is or isn't is in material. What matters is what was found and blaming the hackers whoever they are, is simply away to distract from the issue.
The hack has been reported on a number of sites and the spin all depends on where you read it, but here is a report from the http://theduran.com and embedded below is a video report from RT.com


Serena Williams, Venus Williams and Simone Biles took banned substances, but all were allowed to compete in Rio

WADA allowed US tennis players Serena and Venus Williams to take banned substances, while gymnast Simone Biles failed a doping test and still avoided disqualification.

US Olympic athletes taking banned substances? No chance.

US Olympic athletes having their banned substance abuse swept under the rug by WADA? No way.

Fancy Bear ( http://fancybear.net/ ) hacking group seems to think otherwise, and now they have the proof.

Of course expect the US Olympic committee, all the athletes, WADJA, and all of main stream media begin to provide a million and one excuses for what the hacked documents expose.

And of course expect the entire attention to focus away from the substance and evidence of the hack, and on to blaming the "evil Russians" for the hack.

The Fancy Bear hacking group released WADA documents that clearly show star tennis player Serena Williams was allowed to take banned substances such as oxycodone, hydromorphone, prednisone and methylprednisolone in 2010, 2014 and 2015.

Her sister, Venus Williams was allowed to take prednisone, prednisolone and triamcinolone among others in 2010, 2011, 2012 and 2013.

The documents do not reveal the diagnoses of the athletes which led to WADA allowing them to take the substances.
.............
America's sweetheart, gymnast Simone Biles, who won four golden medals in Rio, tested positive for methylphenidate in August, and she was not disqualified nor was she suspended.

In 2013 and 2014, she was allowed to take dextroamphetamine.
See also this report on RT.com https://www.rt.com/op-edge/359328-wada-us-doping-rio/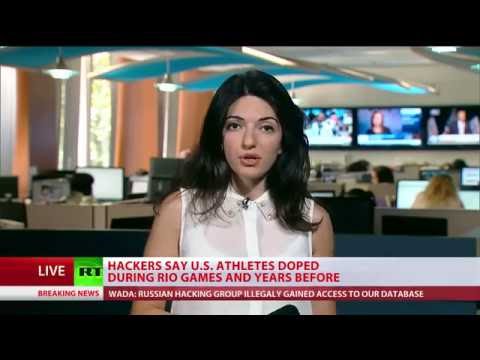 Caption: Leaked WADA documents: US Olympic team players were allowed to take banned substances