Wexford Documentary Film Festival 2018

wexford | arts and media | press release

Monday September 03, 2018 22:36

by Wexford Documentary Film Festiva - Wexford Documentary Film Festiva
21, 22, 23 September 2018 Stella Maris Centre, Kilmore Quay, Co. Wexford
This September sees the much-anticipated return of The 6th Wexford Documentary Film Festival, a jam-packed 3-day festival of International, National, and Local films. The Festival takes place in the working fishing village of Kilmore Quay, County Wexford from Friday 21st to Sunday 23rd September 2018. In keeping with the festival ethos, this year's festival returns with a curated program of films that powerfully explore social, political, and environmental concerns. The Wexford Documentary Film Festival is gaining strength and popularity, by providing the public with the opportunity to see award winning National and International documentary films and 2018 is no exception!

The Festival program engages with some of the critical issues facing society at present both globally and locally. These include films that explore the threat to democracy, the role and responsibility of the media, the ways in which we can create an inclusive society and films that portray the positive role women are playing in challenging and shaping society.

The festival includes post screenings Q&As with International Directors, discussions, lively debates, and film workshops. The festivals 3-minute film challenge has proved a huge success with over 3,000 entries from 40 countries around the world, all competing for an opportunity to be screened in this year's festival.
Screening of the films will be in the local Stella Maris Centre in Kilmore Quay. There will also be a number of outreach film screenings locations including Tagoat, New Ross, Wexford town and Cork City.
We want our films to be accessible to as many people as possible, so we have ensured all film screenings and workshops are free. However, as numbers to some events are limited, tickets to events should be booked in advance through Eventbrite or our website
Opening Night Friday 21st September 2018
Another News Story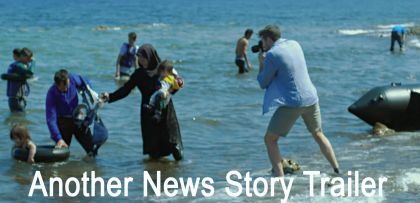 We are delighted to announce the Festival will screen the Irish premier of Another News Story
a documentary film by the young British director, Orban Wallis, who will be in attendance,for a post screening discussion.
Another News story
takes a fresh view of the European refugee crisis. The Film opens in 2015 Greece, as refugees arrive on the idyllic island of Lesbos and followsthem into Hungry, Croatia and across Europe. They are beset by physical deprivation and danger, bureaucratic and political obstacles, and thousands of miles of uncertainty. As the refugees wind their way across Europe they are accompanied by a pack of fellow travellers; reporters, camera operators, producers and news vans. As he travels alongside the refugees British director Orban Wallace turns the camera in a new direction – onto the world's 24hr news gathering media, who are in pursuit of the breaking story
Director: Orban Wallis • UK • 2017 •
9.00.pm Post screening discussion with Director Orban Wallis, Dr. Harry Browne, Journalists and Senior lecture School of Media D.I.T, Vukasin Nedelijkovic artist and creator of The Asylum Archives.
The talk will be followed by a wine and local seafood reception
Some other highlights over the weekend include
Sat 22nd @ 4.pm Berlin Rebel High School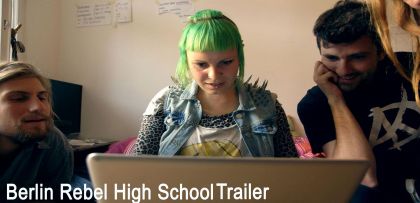 Germany's most unusual high school has no headmaster, no hierarchy and no pressure. The Berlin based school is entirely organized by its students without any outside funding. The adult pupils pay their own teachers and decide what they want to learn. The film follows three students who come from different state schools all over Germany and have one thing in common: they failed. Now they experience a new way of learning – and want to give it a try again. They have two years to prepare for the official test, held by the government. Berlin Rebel High School is a film about the true meaning of learning, a tribute to curiosity, to the joy of life and to change
Director: Alexander Kleider • Germany • 2016 •
German with English Subtitles
Post screening discussion Director Alexander Kleider , Music composer Brian Flanagan, Sarah Lavan, Wexford adult educator, Colm Mullen, cinematographer, community youth worker
Saturday 22nd @ 8.15pm Freedom for the Wolf .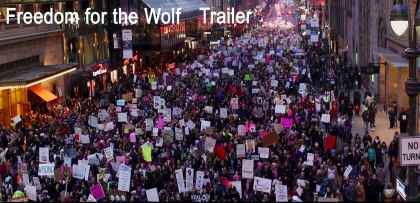 Long live democracy! We are all equal and we can all say, do and think what we want. Right? Freedom for the Wolf bursts that comfortable bubble once and for all. The film starts in Hong Kong in 2014, with members of the Occupy movement adamantly protesting against what they consider a sham democracy—until the powers that be have had enough. From there director Rupert Russell crosses the globe, witnessing events such as the Arab Spring and Trump's inauguration as U.S. President. Everywhere he goes, he shows that the idea of freedom can be used to promote either liberation or oppression of others. Citizens can consume or vote to their hearts' content, but they never get the real power to change things for themselves. Philosophers and politicians provide lucid explanations, enlivened with excellent animations and archive footage. Russell is merciless—he's not here to offer easy solutions, but rather sees it as his job to make us aware of our role in countering the illiberal democracy emerging all over the world
Director: Rubert Russell • Germany/USA • 2017 •
Post screening discussion includes Aislinn Wallace Wexford activist and organizer for 'Pro Choice Wexford' and 'Wexford Homeless Housing, Memet Uludag activist with United against Racism, Tina Mac Veigh socialist, women's rights activist and Dublin City councillor
Sunday 23rd @ 3pm At the Philosophers' School
Fernand Melgar focuses his attention on a group of five children with different mental and physical disabilities at the delicate time of starting school. The young budding philosophers who illuminate the ninety minutes of this film are called Léon, Louis, Ardi, Kenza, Chloé and Albiana. At just five years old, they already bare the weight of the world on their shoulders, full of pain and curious glances but also unconditional love (especially that of their parents), which at times turns into pure devotion. The school is for them (children and parents) a unique opportunity to relieve some of the weight that they carry, even if just for a moment, so as to enjoy some of the freedom that we should all have access to, but that in their situations seems unimaginable.
At the Philosophers' School ponders the fundamental question of understanding when life is really worth living. But above all, it questions who has the task of deciding, the able discriminating against the disabled, the elected against the excluded. Perhaps there is no right answer. But the fact that the question is even raised in the first place already appears to be an immense achievement. Between modesty and a desire to express oneself, each person finds the courage to assert his or her presence, shaking up – even if only for ninety minutes – a hierarchy that seems unchallengeable. Turning the abnormal into the normal, pain into a resource and cinema into a voice.
Director: Fernard Melgar • Switzerland • 2018 •
French with English Subtitles
Post screening discussion will include Patrick Lydon Camphill, Nimble Spaces Initiative Group Kilkenny. Ian Barry active member of Down Syndrome Wexford
Sunday 22nd @ 2.45pm Marie Madeleine – A female Chief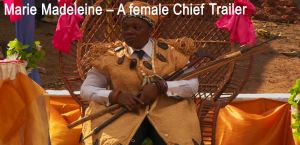 A woman is to be enthroned as chief in a small village in Cameroon. This is a rare occurrence in most African societies where the position of chief is customarily handed down from father to son. This documentary presents a rare glimpse into a community intransition; men speak candidly about the importance of women in development - "women are doing more to encourage development than men. I believe a female chief will bring new things."
Even though villagers consider Marie-Madeleine a 'stranger' because she lives and works in the capital city of Yaoundé, she is determined to learn about her culture and integrate into village life. As she beats the traditional drum on her enthronement day, the gentle sounds signal a break with tradition - It is the dawn of a new era. Villagers are hopeful that she will bring much needed development to the village.
Director: Florence Ayisi • Cameroon • 2018 • Subtitled
We look forward to seeing you in Kilmore Quay for a great weekend of
films, talks and workshops.
You can have a look at our full programme of films online here
and share it widely.
And to find out more about the festival please visit our webite

Wexford Documentary Film Festival 2018 Programme 5.07 Mb