Backstory Of Julian Assange Trial and Event to Celebrate His Courage -Sun Sept 13th

international | rights, freedoms and repression | news report

Friday September 11, 2020 14:34

by court observer
The War on Journalism -a film by Juan Passarelli
This short film titled: The War on Journalism: The Case of Julian Assange produced by Juan Passarelli is now available for viewing. This is an excellent 36 minute film giving the backstory of political show trial of the courageous Julian Assange at Old Bailey. It's give context to the whole affair -something you would never get in the state or corporate media Also there are details of an online event on Sunday 13th Sept to celebrate the courage of Julian Assange
This is an excellent 36 minute film giving the backstory of political show trial of the courageous Julian Assange at Old Bailey.
It's give context to the whole affair -something you would never get in the state or corporate media
The film is available on both Youtube and BitChute which is the rapidly growing alternative to the outright censorship on Youtube.
Youtube are forcing you to login so that they can identify you with the excuse it is age rated. However you can watch it without restriction on BitChute
Youtube (not recommended)
https://www.youtube.com/watch?v=3FJVfJKb79A&authuser=0
BitChute.com (
recommended
)
https://www.bitchute.com/video/zMDerDK2ppwJ/
Links related to the campaign for Julian Assange
https://dontextraditeassange.com/
http://www.assangedefense.org
https://wiseupaction.info/
Celebrating the courage and journalism of Julian Assange - Online Event Sun 13th Sept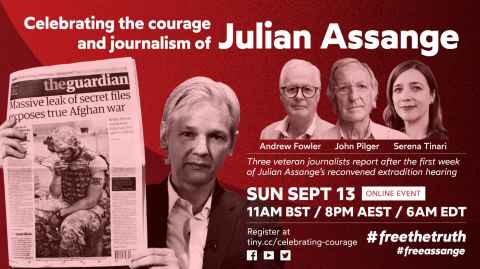 You can Register for the On Line meeting this Sunday 13th September 2020 regards this week in the Old Bailey Julian Assange "trial". See details below.
Most of the week's proceedings are available on
http://www.assangedefense.org
You can read details of the proceedings in notes by Craig Murray ie Day 6 and 7 September 2020:
https://www.globalresearch.ca/your-man-in-the-public-gallery-the-assange-hearing-day-6/5723275
and
https://www.globalresearch.ca/your-man-public-gallery-assange-hearing-day-7/5723412
About this Event
Reporting after the first week of Julian Assange's reconvened extradition trial, veteran journalists John Pilger, Andrew Fowler and Serena Tinari join #FreeTheTruth as we turn the spotlight onto the courage and journalism of Julian Assange. UPDATE: Former British ambassador Craig Murray will also now be joining us.
This event will be held at 11 am London time and is an online event. Please register via this link. All registered attendees will receive a link to join online on the day of the event.
Contextual information about the case:
The trial has huge significance in terms of freedom of the press, whistleblower protection, extraterritorial rights of the US state, the publicís right to know about the crimes govts commit in their name ( including the rights of those tortured, maimed and killed in Iraq and Afghanistan to know the truth about crimes undertaken by occupying forces), political motives of the prosecution + the covering up of war crimes, spying on Assangeís legally privileged conversations, Julian's right to a fair trial and so on as detailed
1) so throughly by Prof Nils Melzer, UN rapporteur on torture and arbitrary detention here https://www.republik.ch/2020/01/31/nils-melzer-about-wikileaks-founder-julian-assange
2) by journalist Max Blumenthal (re the spying) here https://thegrayzone.com/2020/05/14/american-sheldon-adelsons-us-spy-julian-assange/
3) by historian Mark Curtis and journalist Matt Kennard at DeclassifiedUK re concerns about judicial conflicts of interest here (7 instances) here https://twitter.com/declassifiedUK/status/1301873090658529282?s=20 and here https://twitter.com/declassifiedUK/status/1301773278151880704?s=20
Public and press access to the court has been extremely limited (pre-Covid) and the post-Covid measures mean that there are likely to be a maximum (TBC) of 4 spaces in the public gallery. A few journalists and perhaps a very small number of observers might get electronic access under strict conditions.
It is important, given the collusion of 5 states in Julianís continued persecution, and given (pretenses of ) open justice, that the case receives sufficient scrutiny.