Dr. Peter McCullough - URGENT WARNING About Poisonous Jabs - "An Agonizing Situation".

international | crime and justice | news report

Monday August 09, 2021 00:12

by 1 of Indy
Dr Peter McCullough in this interview last month explains how the spike protein is causing very serious damage to the body and says this Vaccine should have been taken off the market at least last Feb as it long past the threshold number of deaths for that to occur.
Dr Peter McCullough MD is a Professor at Texas A & M College of Medicine, President, Cardiorenal Society of America, Editor-in-Chief, Reviews in Cardiovascular Medicine, Senior Associate Editor, American Journal of Cardiology and others. He has written 46 peer-reviewed publications on COVID-19 and is considered among the world's experts on the topic, testifying in the US Senate Committee on Homeland Security and Governmental Affairs in November 2020, and throughout 2021 in the Texas Senate Committee on Health and Human Services, in the Colorado General Assembly, and in the New Hampshire Senate, concerning many aspects of the pandemic response.
Dr McCullough also practices internal medicine in Dallas and he was initially a proponent of the vaccine, until the many adverse reactions among his patients changed his mind completely. He has since come out adamantly against the jab.
He says, "Like most physicians looking at the data coming out of the registrational trials, the products looked like they were effective, '90% vaccine efficacy'…Through December, January, February, probably 70% of my patients here at Baylor in Dallas received the COVID-19 vaccine…looking backwards, now, on January 22nd, we had actually already had 186 deaths that had occurred after the vaccine. The threshold of concern is about 150 or so. In general, we get about 150 [deaths] for all the vaccines combined. 500 million shots per year, across 70 vaccines but for a single vaccine…
"I think if we had had a data and safety monitoring board, they would have shut down the vaccine in February of 2021."
Stew responds, "25 people died during the Swine Flu vaccine. They shut it down immediately…Now, you're talking about 180-some odd deaths at one location. The CDC is now acknowledging over 12,000 deaths. For perspective, that's 3 [sic] times the amount of people that perished in 9/11…some of the most deadly days in our world's history, specifically, here in the United States are minuscule in comparison to these deaths, I just don't understand. So how did you come to the conclusion that these deaths or the condition of these inoculated patients was actually related to the injections?"
Dr McCullough says, "Initially, we didn't know. As these deaths continued to mount, on two occasions, in March and then later on, in June, the CDC put on their website that CDC and FDA reviewers had looked at the deaths and none of them were related to the vaccine and so doctors in my circles were questioning this, because patients were immediately dying after the vaccine at the vaccine centers or then shortly thereafter, we'd be called about some kind of fatal event that's happened, whether it's at home or patients come to the hospital with some type of fatal event.
For full text see link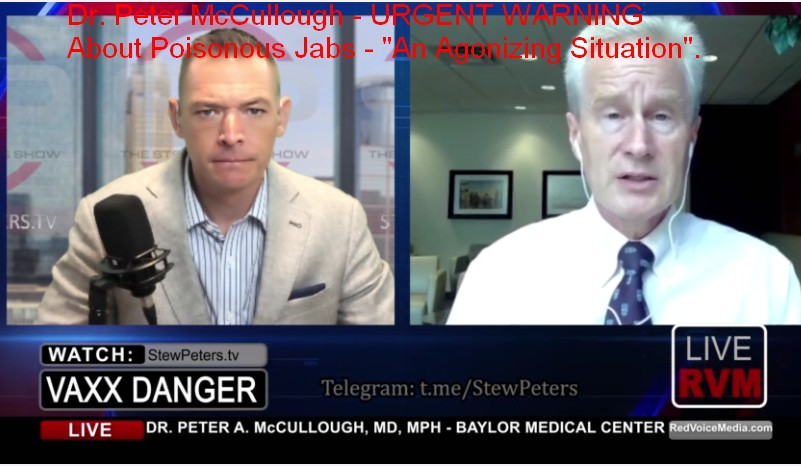 Caption: Embedded video Rumble