Exposed: Ireland's Leading Far-right Politicians Unmasked…

national | politics / elections | other press

Tuesday December 07, 2021 20:58

by 1 of Indy
We have heard much about those question the official narrative, asking questions about vaccines or attending protests against the loss of freedom are the Far Right. But when you rationally think about it those making those statements are the far right themselves. A recent article on FreePress.ie explores this phenomenon

The emergence of the far-right is a relatively new phenomenon in Irish politics. Since the first lockdowns two years ago there have been worrying signs that the Irish far-right have been tightening their grip on Irish politics, through a small but vocal minority of serving politicians, in both the Senate and the National Parliament.
The rise of the radical right in Ireland reflects a 40 year trend in politics across Europe. For decades, politics in almost all European countries was dominated by centre-right and centre-left parties. These political parties reflected the class systems of industrialised economies, where a similar group of unskilled and semi-skilled working-class voters aligned politically with their main economic interests.
As we can see below, the centre-left's vote-share in Europe has declined overall in the past forty years, while the radical-right's has increased.
Irish mainstream media and politicians have devoted significant time in recent years to exposing the threat of the far-right. But the actual faces behind their far right stories were often obscured by deliberately inaccurate reporting and finger-pointing . The general far-right boogeyman was never truly defined – it was more of a concept, hidden beneath a veneer of double-talk and false sincerity by certain Irish politicians and media operatives.
It is worth remembering that Joseph Goeball's most famous quote was that one should "accuse others of that which you are guilty", if one is to achieve success in the darker political arts. Goeballs was the Nazi minister for propaganda, and early Nazis went to great lengths to point the German people towards imagined threats while the far-right were working quietly from within.
However, after this week's revelations in the Irish national parliament and senate, it seems that the Irish far-right will be quiet no more – three senior operatives have now fully revealed themselves. These fascists are now so confident in their mental hold over the population, aided by far-right members of Irish mainstream media, that they have brazenly revealed their faces and their true intentions.
The Far-right unmasked – Fianna Fail Senator Gerry Horkan
Fianna Fail Senator Gerry Horkan's recent statements in the Senate are the perfect example of Ireland's far-right leaders emerging from the shadows. In the short video below Horkan cynically appeals to the lowest common denominator in our society – those who would discriminate against others based on their medical or racial status. On the other hand, in true corporatist fashion, Horkan publicly supports the massive pharmaceutical corporations now embedded in every aspect of Irish government decision making.
The most consistent theme of all far-right fascist politicians and of their political platforms is their devotion to corporatism.
Now watch Herr Oberführer Gerry Horkan in action this week in the Irish senate, blowing his discrimination dog-whistle as a rallying cry for Ireland's far-right: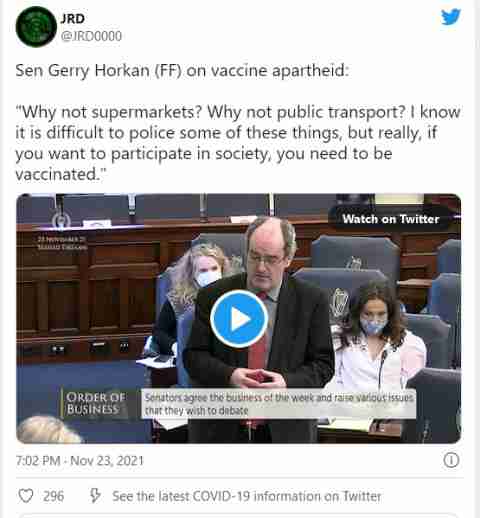 https://twitter.com/JRD0000/status/1463221410474733576?
For the full article follow the link below