Protests continue in Galway over the Qana massacre.

galway | irish social forum | news report

Tuesday August 01, 2006 20:58

by TD - IPSC
The Israeli's have defied 46 UN resolutions, the yanks have vetoed 40 UN resolutions on Israel's criminality
For five hours, for a second day running, Ireland-Palestine Solidarity Campaign and anti-war activists took to the streets to protest Israel's massacre of the Qana innocents, this time in bigger numbers - operating on a rota basis, some 15 activists participated throughout the day.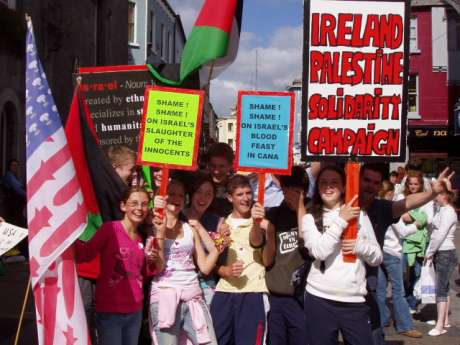 Young 'uns learning Irish in Conamara, God bless 'em,enthusiastically stole our banners and thunder for a few minutes.
The mauvais quart d'heure or whatever of the day, was an Israeli woman ignorently and virulently maintaining there were no Arab/Palestinain peoples in now geographical Israel prior to 1948. we politely entertained this bilge for a few minutes before Nuria hoisted her argument on to the metaphorical autopsy slab and clinically dissected it to the chagrin of the headbanger.

More protest is planned for tomorrow outside Lynch's castle, starting at 1PM. Please join us !.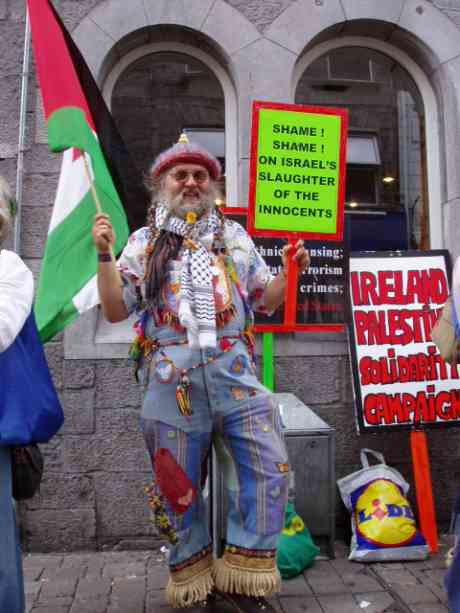 "Concertina," his perigrination on hold, gave us unbegrudging support.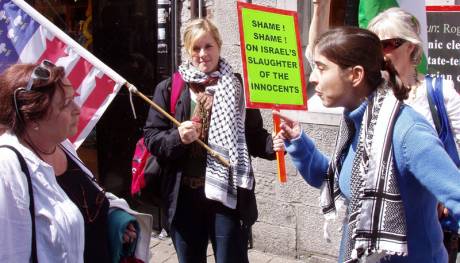 Nuria giving short shrift to a Zionist headbanger !.


Dr. Saber giving the Zionists what they didn't order.