Irish Protests Against Israeli Attacks on Gaza Escalate

dublin | rights, freedoms and repression | feature

Friday January 02, 2009 11:12

by Paula Geraghty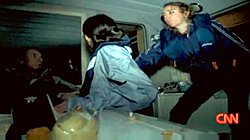 Thousands have been protesting all over the world against the current military attacks on one of the most densely populated parts of the world - The Gaza Strip.

Hundreds marched from the Israeli Embassy to the nearby US Embassy in Ballsbridge, Dublin last night.

Palestinians both Hamas and Fatah supporters were part of these protests. Most chants were in Arabic.

The march returned to the Israeli Embassy where people surrounded it just as Gaza is surrounded.

An Israeli flag was also burned by two young women.

Images of last nights rally and march below.

Protests all over Ireland...
• Dublin, Dec 28 2008: 'Hundreds take to the streets to show solidarity and mourn for the people of Gaza' - Photo series
• IPSC at the US and Israeli Embassies: 'For the third day running Palestinian and Palestine solidarity activists demonstrated in Dublin against the ongoing Israeli assault on Gaza.' - News story
• Belfast Dec 29th: 'close to 100 people assembled in front of Belfast City Hall to protest at the barbaric Israeli bombing of the Gaza Strip. Those present included members of the Palestinian and Muslim communities in Belfast.' - More news
• The North West Solidarity Network, based in Donegal and Leitrim counties: 'We feel humanity does not do not have the option of standing idly by watching such horrendous events without trying to do something to stop it.' - More news
• During the protest at the US embassy some Dubliners took time to celebrate the new year by throwing shoes at George W Bush.... Photo Series
• On New Year's Eve, Derry Stands up in Solidarity with Palestine - More info
• On New Year's Eve, Dublin Palestine activists keep up the pressure on NYE and NYD - More info & pictures ... and even more nice photos

and, in case anyone forgot, Ireland's Shannon Airport is still Aiding and Abetting War in Iraq.

Caoimhe Butterly WatchBlog continues...CLICK HERE for latest updates
[ previous Caoimhe WatchBlogging here. ]