Judgement in Stormont Anti-War Protest Sham

antrim | anti-war / imperialism | news report

Friday January 23, 2009 21:10

by éirígí PRO - éirígí
Judgement was finally reached today in the case of three éirígí activists who had been charged in connection with an anti-war protest at Stormont in May 2007.
Judgement Reached:
After nearly two years and more than ten separate court appearances the case of the three éirígí activists charged in relation to the
Stormont Anti-War protest finally reached judgement today.

The men, Cormac Ryan [Dublin], Dominic McGlinchey [Derry] and Scott Masterson Dublin], were arrested during a peaceful protest against the visit of British war criminal Tony Blair to the Stormont assembly in May 2007.

Despite the fact that all three men were charged with the same offences and that the 'evidence' against the three men was equally weak the judge handed down three separate judgements.

While the case against Scott Masterson was struck out by the judge and Cormac Ryan was found not-guilty due to insufficient evidence, Dominic McGlinchey, who was unable to make the court appearance due to his being out of the country, was convicted in his absence. This three-way judgement is fully in line with a case that has been farcical from start to finish.

Background to Case:
While the original charges against the three men had included allegations of 'riotous behaviour' and 'assault causing actual bodily' harm these were dropped to lesser charges when it became apparent that the PSNI were unable to produce
any evidence to support them.

Following a series of charge changes all three men were eventually charged with two charges each, namely that of 'disorderly behaviour' and 'assault'.

But even with these lesser charges and the accompanying lesser burdens of proof the PSNI were unable to produce any substantial evidence against the men. The conviction against Dominic McGlinchey was only made possible by the fact that he was not present in court today.

Scott Masterson Speaks Out:
Speaking outside the court today Scott Masterson said,

"For all the talk of change in the Six Counties our case has demonstrated that it is really business as usual for the PSNI and so-called British Justice.

'When the three of us were originally charged the PSNI claimed that the nose of female member of their force had been broken by Cormac Ryan. They also claimed that an entirely legitimate and peaceful protest against war criminal Tony Blair
had descended into a riot. All of these claims have now been exposed as being completely false.

'For close to two years Dominic, Cormac and I have had this case hanging over us. At one point Cormac and I were signing on weekly in Newry PSNI barracks requiring a lengthy and costly round trip from Dublin.

'Dominic, like Cormac and I, has appeared in this British Court on more than ten occasions in relation to these charges. We have also signed on at PSNI barracks on dozens of occasions.

'We did so because we knew these charges to be complete fabrications and we wanted to expose that in public. At almost every court appearance the PSNI, or the courts themselves, have caused the case to be postponed. The reasons for these postponements have included such laughable excuses as alleged 'key witnesses' having the flu or being on training courses.

'Today, for the first time one of the three of us was unable to make the court appearance – due to an understandable mix-up with dates which resulted in Dominic being out of the country – and now, all of a sudden, the wheels of British justice move so quickly that his case can't be adjourned for a couple of days.

'It was well within the power of the judge to deal with mine and Cormac's cases today while adjourning Dominic's till he was back in the country. People will see Dominic's conviction for what it was – an opportunistic conviction of a man who was not given the opportunity to defend himself. The issuing of a bench warrant for his arrest is an equally transparent attempt to blacken his character.

'Had the judge adjourned Dominic's case till he was back in the country and able to contradict the PSNI's so-called evidence there is no doubt that his case would also have been thrown out of court.

'If proof was needed that there is still no British justice in Ireland today's judgement was it. A British police force in collusion with the British courts system have attempted for almost two years to portray what was a legitimate political protest as a criminal act. The judgements made today have only further confirmed the political motivation behind this whole farce.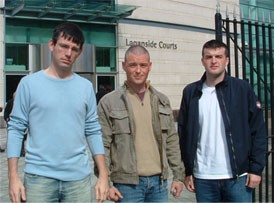 Cormac Ryan, Dominic McGlinchey, Scott Masterson