Reading the names of Gaza's dead Children

derry | anti-war / imperialism | news report

Sunday January 25, 2009 14:16

by George Row

gh_row at yahoo dot co dot uk
Members of DAWC read the names of children killed in Gaza
In the centre of Derry, on Saturday 24th of January 2009 members of Derry Anti-war Coalition (DAWC) read a list of the names of more than 400 children killed by Israel's attack on Gaza over the last month.

Within days of the 37th anniversary of Derry's Bloody Sunday and a few hundred metres from many of the incidents of that day, members of Derry Anti-war Coalition (DAWC) marked the deaths of more than four hundred Palestinian children as the result of the assault on Gaza by the Israeli military.

They did so by reading a list of the name and age of each child whose death has been recorded in Gaza. Speeches were kept to a minimum as the simple reading of the name and age of each child killed took forty minutes.

The Gaza strip is slightly (about 10%) smaller in area than the area administered by Derry City Council (360 sq km compared to 390 sq km). It has a population density of more than 4,000 people per square kilometre - compared to Derry's 280 people per sq km.

In the last month the people of Gaza have seen 1,330 Palestinians killed by Israel's assault on their crowded strip of land - a hundred Bloody Sundays in three weeks. These deaths included 437 children and 108 women. More than 5400 people have been injured.

One of the readers pointed out that many of the names would sound similar to a Western ear reflecting the fact that whole extended families were wiped out as residential areas were flattened by Israeli bombing.

Many shoppers stopped and stood in silence, shopping in hand, as the list was read. The poignance of children playing safely on the streets of Derry while their parents stood listening, was not lost on passers by.

American arms manufacturer Raytheon, who have a plant in Derry, supply many of the bombs, missiles and associated guidance systems, used to massacre the civilians of Gaza. Hence the DAWC speakers closed by calling upon Derry City Council to tell Raytheon that they are not welcome in the City.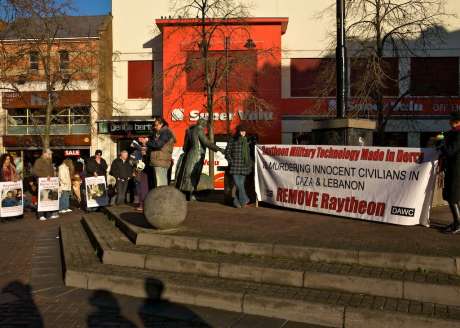 Reading names of children killed by Israel using Raytheon weapons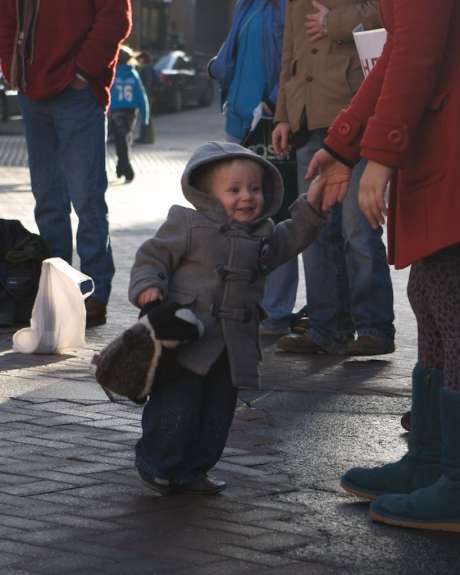 A child safe in the streets of Derry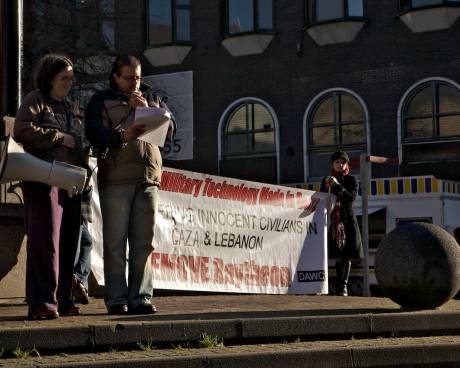 "Many of the names sound similar as whole families were killed."