Black Hearts for Valentine's Day at Shannon Airport

clare | anti-war / imperialism | news report

Sunday February 14, 2010 21:25

by John Lannon - Shannonwatch

shannonwatch at gmail dot com
Valentine's Day was marked at Shannon Airport by a vigil calling for Love not War. Around 25 people gathered in the sunshine outside the airport entrance, displaying black hearts and calling for an end to the U.S. military use of Shannon. Demonstrators ended the hour long vigil by giving their black heart 'Valentine Cards' to the Gardai who stood behind the metal barriers which they had erected to block access to the airport.
Close to 2 million U.S. troops have passed through Shannon Airport since the invasion of Iraq in March 2003. In 2009 alone over 970 U.S. military contracted aircraft transported troops and cargo through the airport. Flight records maintained by Shannonwatch also show that an additional 360 U.S. Air Force and Navy aircraft landed at Shannon in the same period. According to Shannonwatch, these figures show the strategic role that Shannon plays in the occupations of Iraq and Afghanistan, done largely without the knowledge or approval of the Irish people.

The Black Hearts vigil at Shannon was a good humoured event, attended by people from many parts of Clare and Limerick as well as Galway. Members of the Peace and Neutrality Alliance from Dublin also took part. Banners were displayed calling for the demilitarization of what is supposed to be a civilian airport, and for an end to all links with CIA rendition flights.

A message of support was also received from World without Wars and without Violence (Ireland). It expressed support for the Black Hearts peace action, and solidarity for all the death and endless and unnecessary suffering of the people of Iraq and Afghanistan, and for the tortured and mistreated victims of Guantanamo Bay.

Vigil attendees were heartened by the number of passing cars that hooted horns and gave thumps-up signs in support of the vigil and the calls for an end to Shannon's profiteering from war. "Despite attempts by many political representatives in the area to justify the use of the airport by a foreign military power, local people and visitors to the airport are clearly unhappy with the situation" said a spokesperson for Shannonwatch.

The next event scheduled at Shannon to protest against its involvement in war and human rights abuse is a women's peace camp on March 6th and 7th. This will be followed on Sunday March 14th by the next monthly vigil, which will mark the seventh anniversary of the start of the U.S. led invasion of Iraq on 20th March 2003.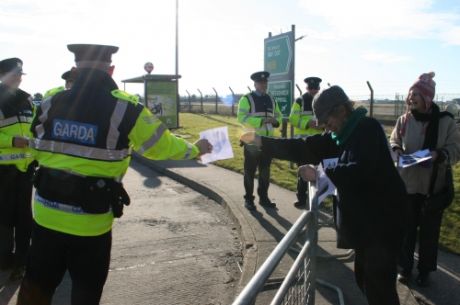 Demonstrators give their (black) hearts to Gardai for Valentine's Day