Douglas Street Community Celebrates International Women's Day... In Style!

cork | gender and sexuality | feature

Thursday March 11, 2010 12:23

by FSB!
A community rouses itself to honour women and their struggles for a better world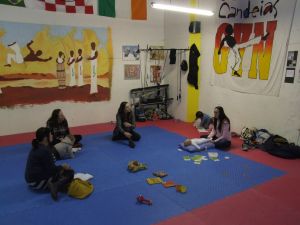 A 'miracle' of grassroots community organising happened yesterday – the community of Douglas Street, Cork came together and hosted an incredible diverse and immensely satisfying celebration of International Women's Day!
Related Links:
International Women's Day Peace Camp at Shannon | Audio from the 2009 & 2010 Feminist Walking Tours | Phil Keane from Women's group of St Michael's Estate talks about International Women's Day> | Nation In Crisis: Feminist Perspectives
This was a remarkable day of events dedicated to the celebration and recognition of the achievements of women and to the celebration of the contribution of women down the centuries to the struggles for human rights, workplace rights, social justice and democracy worldwide. A programme of over forty events organised on a shoestring (a shoestring gladly supplied jointly by the Independent Workers' Union and the Cork branch of the Workers' Solidarity Movement) went ahead with almost no hitches, with a truly diverse range of talks, workshops, activities, performances and more that brought hundreds to Douglas St. From ten in the morning to very late at night.

Many thanks are due to the group of women (and a few men) who put in a magnificent organising effort, especially Deirdre who must have visited every house in the neighbourhood while putting the programme together for this magical day of celebration.

One could write for hours describing the variety of activities on the day, so perhaps it is simpler and better to illustrate the day's events with photographs from the nearly-a-dozen venues involved. Hope you enjoy them.

Parenting workshop, lunchtime at Fionnbarra's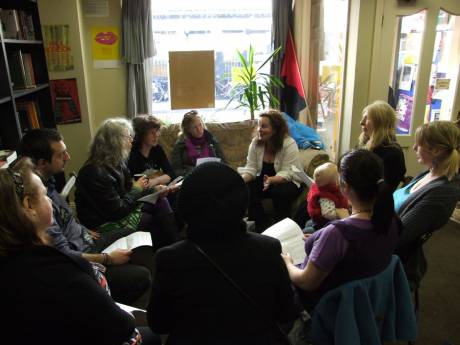 DIY lotion making workshop, afternoon