4,000 protest to Save Services at Wexford General Hospital

wexford | rights, freedoms and repression | news report

Wednesday May 26, 2010 14:20

by Trade Union TV
Last Saturday over 4,000 people came from all over Wexford County and beyond to demonstrate to defend services at Wexford General Hospital.
There was more than a nod to Wexford's radical past when the Pike men and women marched in front of a local band who led a march 52 years ago to defend local health services also.

Fianna Fáils popularity was in evidence when the Senator Lisa McDonald was heckled, her opportunism incredulous as she wore the Wexford GAA jersey, insisting that she would do what it takes to defend the local hospital. She was stabbed in the back by her fellow Fianna Failer Sean Connick TD (who was in the crowd) moments later declared that he wouldn't vote against the government to save the emergency services. He laughed at the crowd.

The Mayor of Wexford declared that Mary Harney was an embarrassment to women in Irish politics.An impressive array of hospital campaigners and health workers spoke from the platform. It looks like this issue won't go away!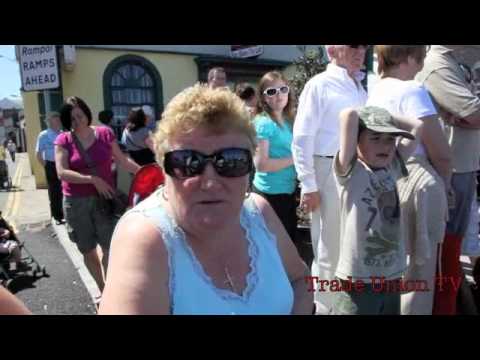 Caption: 4,,000 march to defend health services in Wexford