Merthyr to Mayo cyclists at Castlerea

roscommon | rights, freedoms and repression | news report

Friday June 04, 2010 16:53

by Bobajob - SHELLTOSEA
Niall and Pat - Political Prisoners
Cyclists from Merthyr in Wales en-route to Rossport Gathering stopped at Castlrea Prison to meet up with Shell to Sea supporters and stage a day of music and song on behalf of Niall Harnett and Pat 'The Chief' O'Donnell who are locked up for obstructing the cops in performance of their duty to protect the rights of Shell employees to continue work on the illegal Corrib gas project.
Following on from the imprisonment of the Rossport 5 and retired school principal Maura Harrington and others, Niall and Pat are the latest innocent citizens to be jailed for standing up to the government and their puppet-masters, the multi-nationals, who are determined to complete the construction of the Corrib project regardless of the human and environmental cost.

The project is fundamentally illegal until an acceptable way of bringing in the gas is agreed upon. The government decided to split the project into two parts, refinery and pipeline, so that they could call the refinery construction legal. The Rossport 5 were jailed when they refused to accept the original pipeline route, passing through their property, for reasons of health and safety. They were later vindicated when an oral hearing found that safety measures were inadequate and a new route should be found that passes a suitable distance from residential areas. They are awaiting apology and compensation for their loss of freedom.

Pat O'Donnell refused to desist from his lawful business of fishing in order to let Shell lay a pipeline into Broadhaven Bay. Thugs boarded his boat, threatened him and sank the boat. Following a later incident when he tried to continue his lawful business, he was found guilty of obstructing the cops and was jailed for six months.

Niall Harnett came from County Clare to support the Rossport people and helped set up the Rossport Solidarity Camp. He then moved permanently to live near Rossport to help the community in their stance against injustice and corruption. During an altercation with cops, Niall reached through steel railings to restrain a cop from injuring an innocent protestor. The cop charged Niall with obstruction, the judge refused to have video evidence shown in court and Niall was sentenced to six months in Castlerea.

If an acceptable way is ever found of bringing in the gas, it all belongs to the multi-nationals (Shell, Statoil and Marathon) thanks to the corrupt dealings of politicians such as Ray Burke and the Irish people will have to buy it at market prices.

Shell to Sea stand firm in their resolve to prevent the construction of an overland high-pressure, raw gas pipeline and refinery in the vicinity of residential areas, public water supply, Special Areas of Conservation - the gas can be refined at sea before being brought ashore at low pressure and the people of Ireland should benefit from their natural resources at reasonable prices.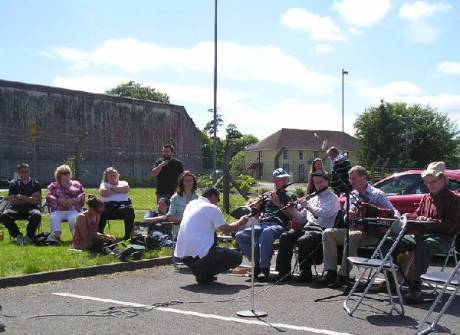 Trad music with Micheal O'Seighin