Roscommon Hospital protest 14th August 2010

roscommon | rights, freedoms and repression | news report

Sunday August 22, 2010 22:53

by Trade Union TV

tradeuniontv at gmail dot com
Over 8,000 people united and held hands around Roscommon Hospital to show that people would defend their public service Saturday 14th August 2010.
Marchers, led by the Castlerea Brass band snaked around the GAA grounds, over the road and into the grounds of the hospital. Staff and patients waved on at the march until the march doubled back on itself at the entrance, with many more still waiting to join the symbolic holding hands around the hospital. Organisers had planned maybe one row of people doing this but the crowd was at least ten deep around the hospital.

There was a clear commitment to the local hospital as scores of people told Trade Union TV how staff at Roscommon hospital had saved their lives or the lives those near and dear to them. The threatened government cuts were a step too far for so many people on the march, watch people's views expressed in the video for more.
Luke 'Ming' Flanagan, Mayor of Roscommon, tapped into the energy and anger of the march saying nothing was impossible if you believed it. He scoffed at the pathetic solutions 'offered' by those in the HSE. There is only one solution for Roscommon hospital and that's to keep it open, well funded and resourced for the fullest of lives for the people in Roscommon.

Thousands have protested all over ireland to save local health services which have been savaged by Fianna Fáil/Green Party / Mary Harney rightwing attacks on public services since the start of 2010, from Dingle to Letterkenny.

Time for all those campaigns to join up and say that health is a national issue!

Read more here at the Roscommon Herald: http://www.roscommonherald.ie/news/st...

Join their Facebook page
http://www.facebook.com/pages/Roscomm...
FB for
http://www.facebook.com/pages/Nationa...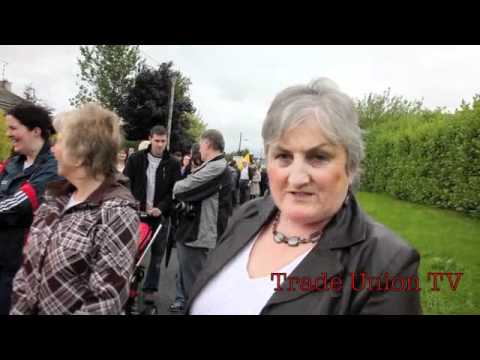 Caption: Roscommon Hospital Protest