Join the continuous protests against Shell

mayo | environment | feature

Saturday May 07, 2011 20:21

by rossport solidarity camp

rossportsolidaritycamp at gmail dot com

rossport solidarity camp, aughoose, co.mayo

0851141170
Come to Mayo!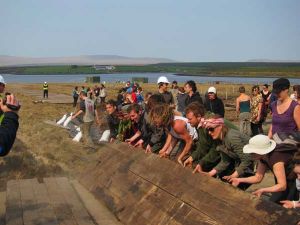 We are taking continuous action to frustrate Shell's work and need your support. Shell's Corrib Gas Project is already decade late and 3 times over budget - impressive for a rural community fighting one of the biggest multinationals in the world! The injustice faced by the community here is symbolic of the corruption and problems faced by people all over Ireland.
Related Links:
Party Against the Pipe | shell work stopped as Gardaí continue to endanger campaigners | One Gas Well to Secure Ireland's Energy Supply!!! | Report from the annual Good Friday walk | Protesters Halt Another Day of shell's Work | shell's IRMS security NOT WELCOME in Enniscrone | IRMS security works with Gardaí to block shell to Sea protesters | Report on Dail protest against rape comments by gardai | shell's Work Disrupted for 12 Hours in Aughoose Co. Mayo | On eve of judicial review, Rossport Solidarity Camp breaks up shell transport lines. | Tearing Up The Tracks | shell's work suspended by Day of Action | Urgent call out! Shell have started work-Days of action this Fri 1st & Sat 2nd April | Work restarts in Mayo | 22 TDs gather at gates of Dail to demand reversal of Corrib pipeline consents | Camp Work Weekend and Walk the pipe tour | shells Work Stopped for 4 hours | Rossport Solidarity Camp is Up! | Enda -prove you are for the people of Mayo | shells Work Stopped twice in two days | shell to Sea encourages people to enter Statoil competition | Questions for Politicians | Non Violent Direct Action Training 5-6th March | shell granted planning permission in mayo | shell To sea Solidarity Action Ghent ( Belgium). | Review of the Corrib Gas Project Oral Hearing | Joe higgins interviewed on RT. By contrast, Vincent brown sneers at him and screws shell to sea | Budget Day drama on Kildare Street | People's Alliance march in Tullamore | Four years since baton charge on peaceful protestors

Shell to Sea - Official Website
Rossport Solidarity Camp - Official Website

If you have problems accessing the shelltosea site directly, try going HERE and typing in the web address.
If you have ever wanted to take action and be part of the campaign, the time is now.
Come up and see for yourself what's at stake. Meet the affected community who have managed to stop Shell for over a decade!

We warmly welcome visitors to learn about the campaign and help work with the local community to resist Shell's Corrib Gas Project.
The Rossport Solidarity Camp is in Aughoose and we are now all based here. It is fully set up with 2 communal sleeping spaces in benders, 3 marquees for meetings, tools and our kitchen, a wash area and toilets. We also have a house in the nearby village of Poll an tSómais.

There is always plenty to get involved with: protesting, support, banner making, building & maintaining the new camp, writing reports, taking photos, gardening, cooking etc. No experience necessary, whatever you skills or interests, the camp is an exciting and inspiring place to visit. We can offer direct action training for beginners and a legal briefing so you know your rights.

We are always balancing campaign work with trying to make the camp/house and garden as self sufficient and as sustainable as possible.

We use collective decision making and plan safe and effective actions as a group. Protests have been continuous since Shell restarted work on 28th March 2011.
Shell work Mon-Fri but there is also plenty to do during the weekends if you can only make it up then.
Just email rossportsolidaritycamp@gmail.com or txt/ring 0851141170 to let us know when you plan to arrive.

It's easy to get to Ballina from anywhere in the country by bus, train, hitching or by car. From Ballina, the Mcgraths minibus runs Mon-Sat 5pm & drops off right outside the camp.

What are Shell's plans?
The tunnel which Minister for the Environment, Phil Hogan signed off on the Foreshore Licence for Shell is planned to run under Sruwaddacon Estuary which is designated a Special Area of Conservation.

Shell's planned tunnel:

* 4.9 kilometers long
* 4.2 meters in diameter
* 15 months of tunneling
* 24 hour a day tunneling
* 944 truck movements a day at peak construction
* 68,000 m3 of material removed
* 2.5 km of 3m high fencing

The construction period is 26 months.

What you can do now:

1. Come up to the camp! If you can only come up once this year, make plans to come up soon. Ask your friends and all those you know have been involved in the campaign over the years to book time off also and make plans to come up.

2. Do a stall and leaflet your local town. We have new leaflets, stickers and posters, please email your address to be sent some. We can also come and give talks or screen the pipe film in your town.

3. Get in touch if you would like us to give a direct action workshop in your area, to prepare people to come up or we can hold one up at the camp.

4. If you cannot make it up here at the moment, solidarity actions at garages, government offices & subcontractors are other great ways of supporting the campaign.

Subcontractors working for Shell http://www.shelltosea.com/content/subcontractors-involv...oject

Please share this information as widely as you can.
Looking forward to seeing you soon!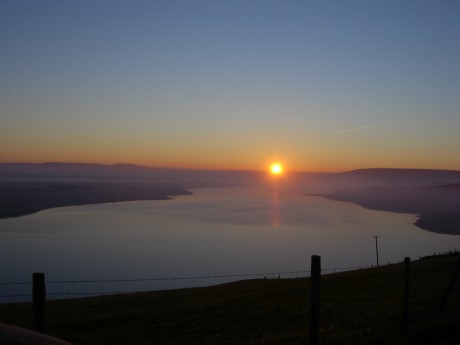 Shell plan to force the pipeline up this estuary