Oops...remember what we said in our report...Y'know, that "fact" quoted by Ollie Rehn, Geitner and others as THE argument for austerity measures? erm...well... it was just an excel error. Sorry!
international | anti-capitalism | other press
Saturday April 20, 2013 12:48
by fred
REINHART AND ROGOFF: " 'Full Stop,' We Made A Microsoft Excel Blunder In Our Debt Study, And It Makes A Difference." The oft quoted rationale for austerity measures by such people as Ollie Rehn and Tim Geitner turns out to be the result of an excel blunder by the authors

You know all these austerity measures that are cutting social safety nets for the less well off, letting sick people die who might otherwise have lived by underfunding our hospital services, eviscerating the local economy and destroying indigenous small business, and generally making the daily lives of the 99% really difficult? Well it turns out the theory behind the necessity for this approach was actually wrong because of a "careless" excel blunder. The authors of the famous study, ( Carmen Reinhart and Ken Rogoff) which claimed that "as countries see debt/GDP going above 90%, growth slows dramatically", have admitted they made a blatant excel error in coming to this conclusion and now

QUOTE:
"Josh Bivens, an economist with the Economic Policy Institute in Washington who co-wrote one of the first critiques of the Reinhart-Rogoff paper in 2010. He said he wasn't surprised by the UMass result: "There's never a sound theoretical reason why there should be a threshold" at which debt suddenly becomes a serious problem—90 percent in the Reinhart-Rogoff paper.

Bivens also said it's quite possible that rather than debt causing slow growth, in many cases it's the other way around: Countries that are growing slowly tend to rack up lots of government debt. He said Reinhart and Rogoff in some of their nonacademic writings have ignored that possibility and asserted—without justification—that high debt does indeed harm growth.

This isn't an obscure academic debate. As Krugman points out, the Reinhart-Rogoff research is one of the two main threads in the pro-austerity argument, the other being Harvard's Alberto Alesina on the macroeconomic effects of austerity. With so much at stake, the argument that caught fire in one afternoon is likely to keep burning for months."


LINKS:
[
more will be added as situation unfolds, most recent first
]
---
businessweek - good faq on the error:
http://www.businessweek.com/articles/2013-04-18/faq-reinhart-rogoff-and-the-excel-error-that-changed-history
thinkprogress - "European Union Pledges To Curb Austerity":
http://thinkprogress.org/economy/2013/04/19/1894971/europe-united-states-austerity/
---
REFERENCED ARTICLES:
here:
http://www.businessweek.com/articles/2013-04-16/twitter...clash
and here:
http://www.businessinsider.com/reinhart-and-rogoff-admi...013-4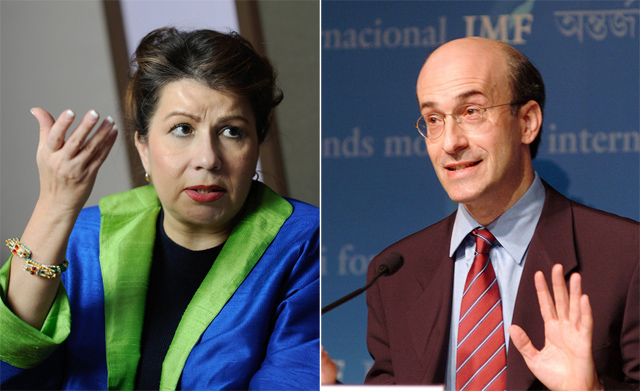 Reinhart and Rogoff, two poster children for austerity.
Now the centre of a major economic and political shitstorm!!