Risk Of Flying Has Dramatically Gone Up Because Pilots Are Having Heart Attacks After The Covid Vaccine
international | public consultation / irish social forum | feature
Saturday April 30, 2022 01:48
by T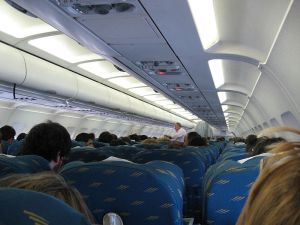 The dangerous Covid vaccines are not only causing death and injury amongst the general population but they are also affecting that special group of people who perhaps once or twice a year many people entrust their lives to and they are commercial airline pilots. For decades the safety of air travel has continuously increased until 2021. Pilots undergo rigorous medical testing and screening so as to reduce the slightest risk that a pilot might fall ill while flying. In 2021 common sense and consent were thrown out the window along with any concerns of safety and as a consequence the flying public are now at greatly increased risk and it is time people are made aware of of this.
Related Links: US Army Surgeon Taken Off Her Job After Reporting Pilot Vaccine Injuries ("In one morning I had to ground 3 out of 3 pilots due to vaccine injuries") Commercial Airline Pilot Develops Brain Swelling and Can No Longer Fly Following Pfizer Vaccine |
("I've had 6 spinal taps over 8 months to monitor my intracranial pressure. I don't know if I'll ever be able to fly an airplane again.")
(Oct 2021) VAXXED Delta Pilot DIES IN-FLIGHT, Emergency Landing Required | Qantas Pilot Graham Hood Shares His Story With Charlie Ward - Part 1 | Are Over 100 dead US airline pilots trying to send us a message about vaccine safety? | (Jun 2021) Pilot details how he nearly blacked out whilst flying and is no longer fit to fly due to adverse reaction to the Covid Vaccine
(Rumours are circulating that the Covid-19 vaccines are to blame for the recent deaths of four British Airways pilots within days of each other....)
The risk of flying has dramatically increased ever since the rollout of Covid vaccines. Many commercial pilots around the world were either duped like most people or coerced by their employers into taking the highly risky experimental vaccines which the data now shows have been a medical catastrophe
Pilots however are special people because under normal circumstances they are some of the most thoroughly medically tested people in order that the airlines can be sure a pilot is not likely to have some life threatening condition such as a heart attack or stroke while flying. The risks are obvious to anyone with any common sense and therefore the rule is if they don't meet the standard then they don't fly. This means the system self selects for people who are currently very healthy. All of this contributed to the good safety record until the Covid insanity of the last two years when all this logic was thrown out the window and reckless decisions and directives were made whereby many airlines presented their pilots with the ultimation of take the jab or no job. And many took the jab.
Now that the hard data has come in through systems like the Vaccine Adverse Reporting Systems in the USA and Yellow Card in the UK that clearly show the massive level of harm caused, these vaccine mandates are looking particularly suicidal and present the world with huge potential risks around commercial aviation. Incidentally payouts by life insurance companies all over the Western world (where these vaccine mandates were most strictly enforced) are showing a huge jump in payouts for people of working age -the very broad age bracket where these companies expect few people to die. That is all changed now and serves as an independent way of validating what many people are noticing. That is people suddenly dying of heart attacks, strokes, clots and brain bleeds.
And if that does not convince you then in Autumn of 2021 a list of over 120 US commercial pilots who have died since taking the Covid jab was published in one of the aviation magazines because the mainstream press wouldn't touch the story. This is an unprecedented number especially for a well screened group like this and it is literally off the charts. What's more a general rule of thumb, whether it be car accidents, wars or any scenario causing death and injury is that you will generally have 5 to 10 times the number of serious injuries to deaths and possibly higher. Inset is a screenshot of part of that published list. Click on the image to zoom in to see the details.
Over 120 US Commercial Airline Pilots died in 2021 -The Year of The Covid Jab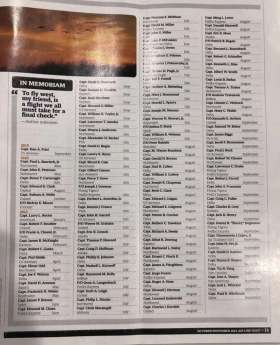 So we are now in the situation where many if not most pilots have been jabbed and everyone of them is at risk of blood clots and heart attacks. Spending many hours at altitude for your working day piloting a plane is a risk factor for thrombosis otherwise known as blood clots. This risk has just gone up enormously from these jabs.
Recently in an interview (see video and audio below) Flight Surgeon Lt Col Theresa Long MD of the US Military has been collecting the data and doing an analysis on military pilots and staff and she has recorded a huge increase in vaccine injuries and deaths amongst pilots in the form of pulmonary embolism, strokes, heat attacks, multiple sclerosis, infertility, thyroid disfunction, neuro-degenerative diseases, tumors, She says the figures are off the charts. She has it as catastrophic for the military and recommended that all military pilots should be grounded presumably until it is worked out who got the saline jabs and are safe to fly or who got real jabs.
Given her job is in the US military and her analysis was of that group, it follows that the same recommendation should apply to all commercial airline pilots given since the same is happening there. And indeed there are reports of many reports of airline pilots who have died at the controls but these have been covered up. This is mentioned at 18 mins into the interview below where Stew Peters said an Delta Airlines pilot died at the controls. One can only assume the co-pilot took over. But it's worse because it is said dozens have died. How many are getting heart attacks and strokes but surviving. It is likely 10 times higher given the above rule of thumb.
American Airlines pilot Captain Robert Snow Goes Public on His Career Ending Heart Attack Moments After Landing
This may seem all rather hearsay but it is not. Recently American Airlines pilot Captain Robert Snow, a pilot with over 31 years experience, has gone public with his story after going into cardiac arrest in the cockpit of the Airbus aircraft he was flying just moments after landing in Dallas. A major catastrophe was narrowly avoided as he could have suffered his heart attack while landing.
His career is over now, as the FAA will not allow pilots with heart conditions to continue flying.
Mr. Snow went public to explain how this was most certainly a COVID vaccine adverse reaction, and his testimony was quickly removed from BigTech platforms and for now can be found on alternative video hosting sites.
Captain Snow was threatened with loss of his job unless he took the COVID vaccine. Like anyone with bills to pay, he complied.
The problem facing pilots is if they report that they have a heart problem, their career is over. If they report they have pains in their chest they will have to go through a medical and given the widespread incidence of myocarditis (heart inflammation) then that is enough to end their career. If they report any pounding headaches or lapses in concentration or memory -another common vaccine injury -then the medical may find brain inflammation and that will end their career.
For the older pilots it is likely they may just retire but for younger pilots and especially those who have mortgages to pay then the more likely thing they will do is say nothing and hope for the best. These are the people that could be piloting the next flight you or a member of your family are traveling on.
And as expected this scenario is actually being played out. In the interview of Theresa Long, she stated that pilots had told their they had pains in their chests and pounding headaches but were afraid to say anything in case they lost their jobs.
And in another interview Pilot Joshua Yoder, (co-founder of the U.S. Freedom Flyers, was interviewed by Steve Kirsch where he revealed that he was receiving many phone calls from other pilots in the commercial airline industry who are also suffering heart problems after receiving a COVID-19 mandatory vaccine, but they fear coming forward because they will lose their job.
That interview can be found here: https://rumble.com/v11qyc1-interview-with-josh-yoder-re-american-airlines-captain-bob-snow-vax-injury.html
Snow nearly died from the vaccine. Here's his story as told by Josh Yoder including how they know it was the vaccine.

American Airlines never called Snow in the hospital even though it was their fault he took the vaccine and almost died.

Yoder estimates that 30% of the pilots may need to be disqualified due to heart conditions caused by the vaccine. The airlines are NOT doing the screenings required to assess pilot health and passenger safety because doing those screenings would reveal how unsafe the vaccines are. Therefore, I predict they will simply pretend this never happened. If a plane goes down, it's OK because the insurance companies will pay and they will pretend it was just an accident.

So everyone will look the other way while these incidents continue.

I predict the mainstream press won't touch the story or interview Snow.
army-dr-theresalong-horrific-intel-on-the-vaxx-all-pilots-need-to-be-grounded-juan-o-savin.mp3 32.66 Mb