Indymedia Fundraising Update
dublin | indymedia ireland | feature
Wednesday November 02, 2005 18:04
by Indymedia Ireland Editorial Group - Indymedia Ireland
Indymedia Supports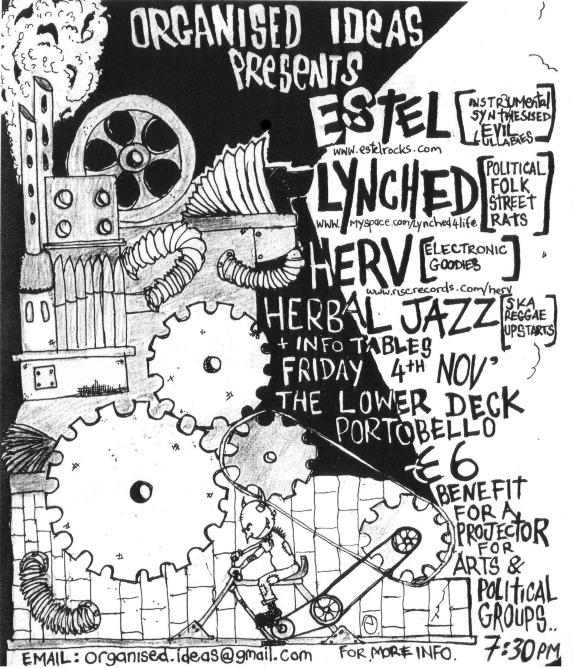 Projector Benefit Gig
7.30pm Friday November 4th 2005, at the Lower Deck Pub, Portobello bridge
2 weeks ago, we announced an urgent appeal for funds in order to pay our bills.
We are happy to announce that a large number of people responded generously to our appeal. In fact, we received enough online donations within 12 hours of the appeal to cover our hosting costs and donations have continued to come in. The details of our fundraising to date are included below.
At our recent fundraising meeting, we decided to aim to raise €2000 to fund a number of projects over the next 6 months. The minutes of this fundraising meeting have been posted to the newswire and include details of the projects which we hope to fund and the amount of money which we have allocated to them.
As part of this fundraising drive, we are supporting the benefit for a projector for arts / political groups / bands etc, as featured in the box to the right.
A big collective thank you to everybody who has donated to this fundraising appeal and a reminder to everybody else that there's still plenty of reasons to donate a few quid to allow us to provide more and more free community services on the internet and in the real world.
---
Below are the details of the funds that we have raised through donations since we launched our fundraising appeal. Our target is to raise 2000 Euro. This will allow us to fund our hosting costs for the next year, increased storage space for bigger pictures, more multimedia, solidarity server space for third world IMCs and other sympathetic projects, a free access physical indymedia laboratory and a fund to assist local indymedia collectives in starting up.
Donate to Indymedia's Fundraising Drive
Because Free Media isn't Free.
Paypal Donations
donation amount
number of donations
€100
4
€50
2
€40
1
€30
1
€20
11
€15
2
€10
8
€5
1
€1
1
Number of Donations
31
Gross Online Donations
€906
Paypal Charges (3.4% + €0.35 per transaction)
€41.69
Net amount raised
€864.31
Mail / Personal Donations
donation amount
number of donations
€50
1
€40
1
£25
1
Total Mail / Personal
€126.70
Total Raised
€991.01